The Embassy of India in Kuwait places the utmost importance on the welfare and protection of Indian national workers and employees in Kuwait. As part of our commitment to ensuring the rights and well-being of Indian citizens working in the country, we issue this advisory to shed light on a crucial aspect of labor rights – the possession of Indian passports.
Indian Passport: A Sovereign Document: The Indian passport is a symbol of a citizen's identity and nationality, representing their connection to the nation. It is not only a vital travel document but also a sovereign property of the Government of India. This means that your passport is owned by you, the Indian citizen, and is under the protection of the Indian government.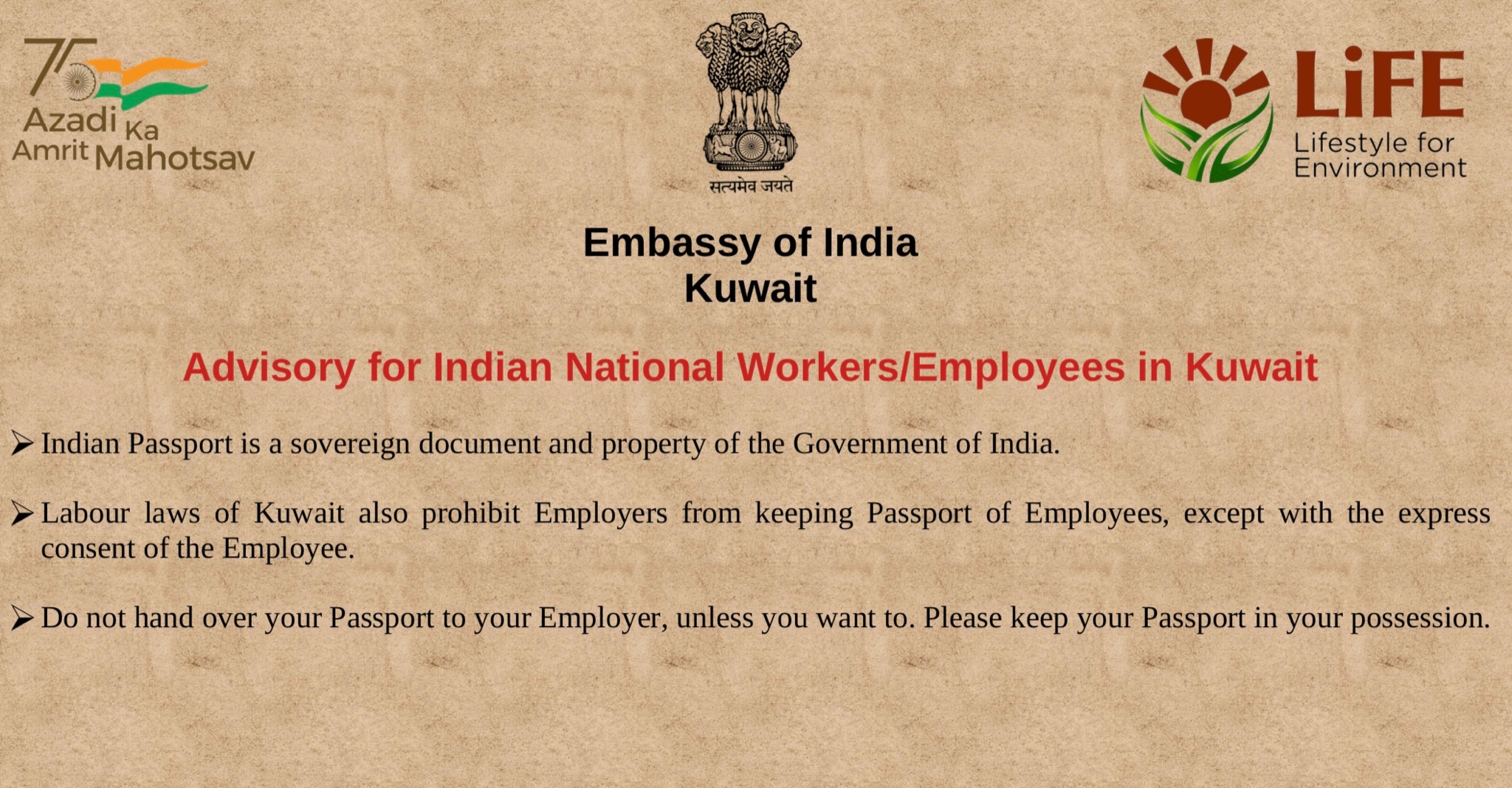 Kuwaiti Labor Laws and Passport Possession: In Kuwait, as in many countries around the world, labor laws have been enacted to safeguard the rights and dignity of workers. One fundamental provision in Kuwaiti labor laws directly concerns the possession of passports. Employers in Kuwait are strictly prohibited from retaining the passports of their employees unless they have obtained the express consent of the employee. This regulation is in place to prevent potential abuses and ensure that the rights of workers are upheld.
Advisory for Indian National Workers/Employees in Kuwait: The Embassy of India in Kuwait strongly advises all Indian national workers and employees in Kuwait to be aware of their rights regarding passport possession. Here are some important points to remember:
Your Passport, Your Property: Your Indian passport is your personal property, and it is your right to keep it in your possession.
Consent Matters: If your employer requests your passport, remember that you have the right to give or withhold your consent. Do not feel pressured to hand over your passport if you are uncomfortable doing so.
Safety First: It is advisable to keep your passport in a secure place, such as a safe or a locked drawer in your accommodation, to ensure its safety.
Copy and Documentation: Always keep photocopies of your passport and relevant identification documents with you. These copies can be helpful in case of emergencies or if you need to provide proof of your identity.
Contact the Embassy: If you face any issues related to your passport or employment rights, do not hesitate to contact the Embassy of India in Kuwait. We are here to assist and support you.