A train collision incident occurred at Onda railway station in Bankura, West Bengal, which led to a significant disruption in railway operations. The incident involved two goods trains on the Kharagpur-Bankura-Adra line. Following the mishap, the authorities announced multiple cancellations, diversions, and short terminations of several trains on 25th June 2023.
Cancellations
Fourteen trains were cancelled as a direct result of the incident, which includes:
12828 (PRR-HWH)
13506 (ASN-DGHA)
08686 (ADRA-KGP)
08675 (VSU-ADRA)
08677 (VSU-DHN)
18027 (KGP-ASN)
12883 (SRC-PRR)
18035 (KGP-HTE)
18024 (GMO-KGP)
08657 (ADRA-ASN)
08173 (ASN-TATA)
18013 (ADRA-BKSC)
18036 (HTE-KGP)
08695/08696 (BKSC-RNC-BKSC)
Diversions
Three trains were diverted as follows:
12816 (ANVT-PURI) EXP was diverted via ADRA-CNI-TATA-HIJ.
12949 (PBR-SRC) EXP was diverted via PRR-TATA-KGP.
18628 (RNC-HWH) was diverted via KSX-PRR-TATA-KGP.
Train collision in Bankura, West Bengal: Two goods trains collide near Onda station, causing multiple derailments. Updates to follow. #TrainAccident #WestBengal pic.twitter.com/Qwf4RPphXV

— Abhay Shukla (@_abhayshukla) June 25, 2023
Short Terminations
Two trains were subjected to short terminations:
18004 (HWH-ADRA) Exp on 25.06.2023 was short terminated at IBL.
18085 (KGP-RNC) on 25.06.2023 was short terminated at GSL and the rake was sent back to KGP.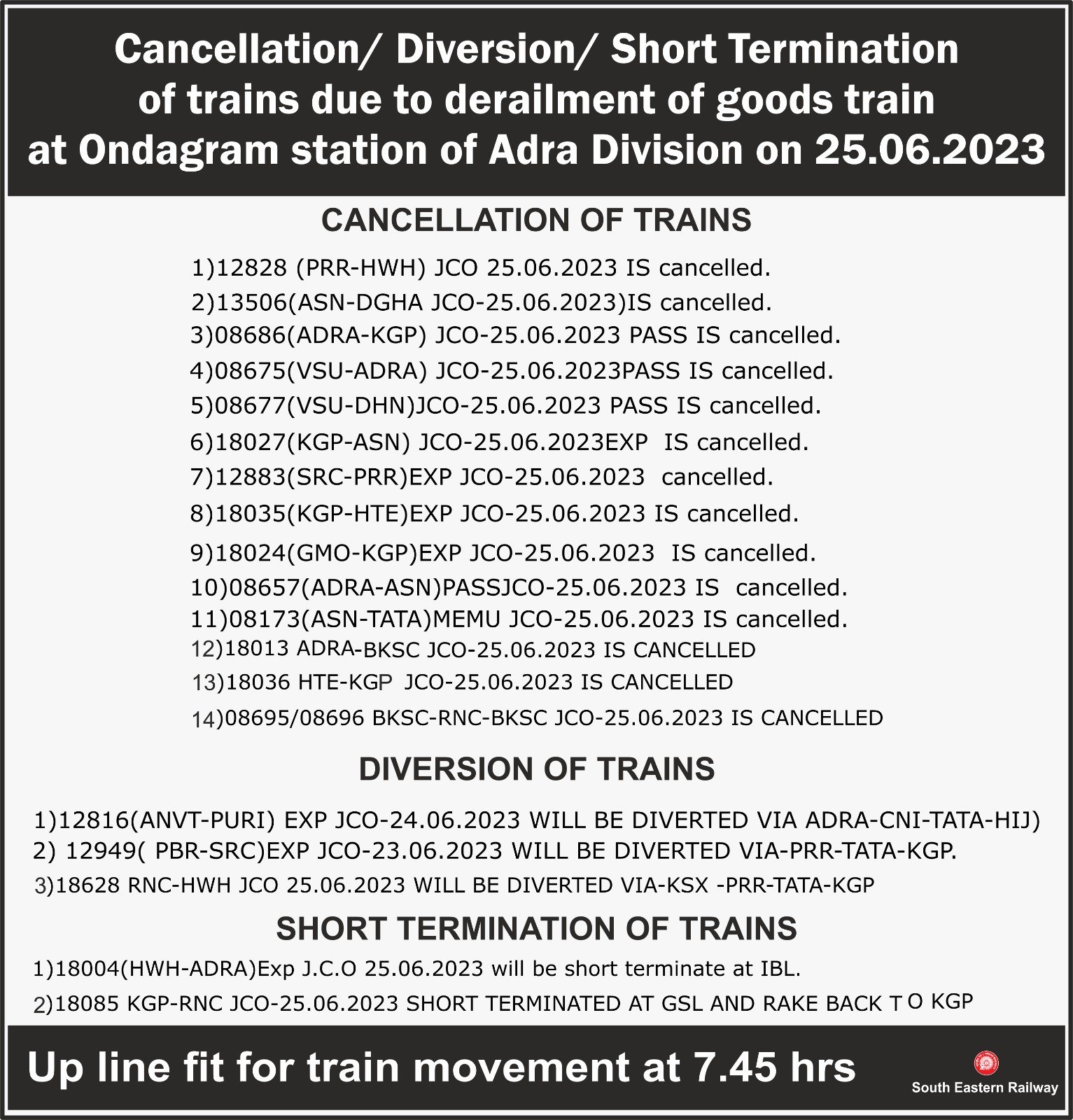 The railway authorities are expected to work diligently to restore operations and investigate the root cause of the collision. Passengers are advised to check with the railway department for updated train schedules and further information. Safety measures should be reinforced to prevent such incidents in the future.